SORRY, DUE TO COVID-19 RESTRICTIONS, WE CANNOT ACCEPT BIRTHDAY PARTY BOOKINGS AT THE MOMENT.
The special birthday person and their guests will be entertained with a variety of non-stop, hands-on farming activities such as bottle-feeding kid goats and meeting baby chicks. The cost includes entry to the Farm, at least an hour and a half spent with a staff host, and the option to stay on until the end of the day to join in with the rest of the day's activities on the Farm.
Minimum numbers: 10 paying party children. Maximum numbers: 20 paying party children.
Minimum age: 4 years.
Parties can be arranged for the following days and times (subject to availability):
Weekends from mid-February to mid-October 2020 (excluding Bank Holidays & special event days):10.30am & 2.30pm.
(Sorry, week days are not available.)
We leave the catering up to the hosts, or you can ask for details about our children's lunch boxes. We reserve our party room for the exclusive use of the birthday person and their guests, for up to 1 hour.
Ice creams, lollies and cold drinks are on sale along with coffee, tea and delicious hot chocolate for the grown-ups.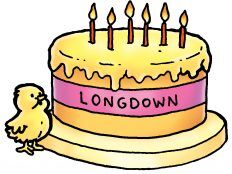 The cost of
 

£

10.00 per child covers:
Entry to the Farm and all the activities on that day.
At least on hour and a half spent with a Farm Host
Special Longdown Activity Farm invitations.
Free admission for

 

TWO

 

adults with every 5 paying children
(please note: ALL additional accompanying adults and accompanying children (3-14) that are not on the party tour but wish to stay at the farm will be charged at a discounted rate of £7.50 per adult or child (unless they have a valid season ticket).
It is the party organiser's responsibility to ensure that these additional charges are collected and paid on the day.
Exclusive use of the party room for the birthday lunch or tea.
In addition, we can arrange goody bags with the contents carefully chosen to suit the agreed price and the ages of the children. These need to be pre-ordered and start from a cost of £2.00 each.
Parties MUST be pre-booked: it is wise to book as far ahead as possible as the diary fills up rapidly!
PLEASE NOTE: As a guided tour is included, children with season tickets must pay the full birthday price although adult season ticket holders will be admitted free of charge. Thank you.
* Subject to availability