Important Documents
We always encourage group leaders to make a preliminary visit to carry out their own risk assessment (please note that these tickets cannot be used on the day of the booked visit).
Safety and hygiene are of paramount importance at Longdown Activity Farm. All our animals and equipment are given regular health checks and we have hand-washing facilities throughout the premises.
The following advice is taken from the latest Health and Safety Executive information sheet. Click below for a copy.
Health and Safety Executive Information Sheet
Avoiding Ill Health at Open Farms – advice to teachers and group leaders.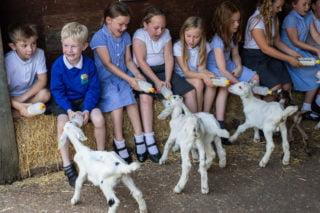 Before your visit
Make a preliminary visit to Longdown Activity Farm using the free tickets which are sent with our confirmation.
Familiarise yourself with the route your group will follow together with the position of the hand-wash areas, toilets and 'Germinator' points.
Discuss with supervisors (who may be parents or staff of the school, crèche, etc) their role during the visit. They must understand the need to make sure that the children wash (or are helped to wash) their hands thoroughly after contacting animals, and the need to follow the other rules suggested below.
Discuss the rules for the visit with pupils stressing that they must not eat or chew outside the areas in which you permit them to do so.
Make sure that pupils wear appropriate clothing including sturdy outdoor shoes (not sandals) or wellington boots if possible.
Check that cuts, grazes, etc on children's hands are covered with a waterproof dressing.
During and After the Visit (where appropriate), make sure that the children:
Do not kiss any of the animals.
Always

 

wash their hands thoroughly before and after eating, after any contact with animals and again before leaving the farm.
Eat only the food that they have brought with them or food for human consumption they have bought on the farm in designated areas. Never eat food that has fallen to the ground, or eat or taste animal feed.
Do not suck fingers or put hands, pens, pencils or crayons, etc in their mouths.
Clean or change their footwear before leaving, remembering to wash their hands after any contact with animal faeces on their footwear or any other clothing.
Staying in Your Group
Do not use or pick up tools (e.g, spades and forks) unless permitted to do so by farm staff.
Do not climb on to walls or animal pens, etc.
Listen carefully and follow the instructions and information given by the farm staff.
Approach and handle animals quietly and gently.
Do not chase, frighten or torment the animals.
Remember:
The children are your responsibility during the visit.
You should supervise them during the visit – especially during hand-washing and scanning to make sure that each child washes thoroughly.
Allow plenty of time before eating or leaving so that the children do not have to rush with their hand hygiene.
IMPORTANT:
If a member of your group shows signs of illness (e.g. sickness or diarrhoea) after a visit, advise them or their parent/guardian to visit the doctor and explain that they have had recent contact with animals.